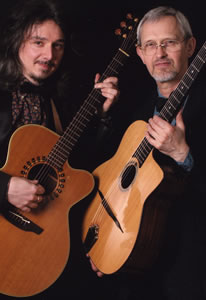 Hotcha Duo
Click to Play Full Length mp3: Ain't Misbehavin'

Hotcha Swing Quartet
Click to Play Full Length mp3: Autumn Leaves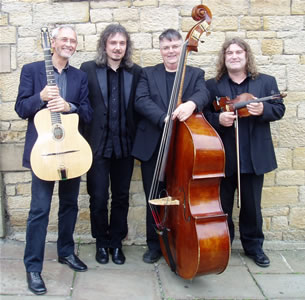 Hotcha started as an acoustic guitar duo featuring Alan Pill and Jon Moore. Formed in late 2005, they rapidly built a reputation as the local hot "swing jazz" ensemble. Although inspired by the music played in the 1930s by Django Reinhardt, and the Quintet of the Hot Club de France, they rapidly enlarged their repertoire. Whilst remaining true to the spirit of spontaneity and passion, they have created their own musical niche.
With the addition of the sonorous acoustic bass of Dave Turner, and the fiddle virtuosity of Heath Lavery, they become the Hotcha Swing Quartet featuring the classic "Swing Quartet" sound of guitar, fiddle, and bass.